Why the Fund
Let the TASB Risk Management Fund help your Texas public education organization manage and mitigate risk for a safer, more secure future.
We've been earning our members' trust since 1974 by providing reliable risk solutions. Amid unprecedented challenges in the insurance market, being part of a risk pool with a long history of stability and success can help you weather whatever crisis may lie ahead — from hurricanes and hailstorms to catastrophic ice events and global pandemics.
Strength in Numbers
With hundreds of millions in assets and Members' Equity, the Fund is backed by solid financials and the strength that comes from pooling together members from across the state. When you choose the Fund, you can rest easily knowing we will be here to deliver the benefits promised in your coverage agreements.
Relationships Over Transactions
The insurance industry is built on transactions: Customers pay a premium, and in return, insurance companies cover their insurable claims. The Fund is not an insurance company, and TASB staff's interactions with our members — not customers — are more than transactional. We are committed to forging relationships of service and mutual success with the educators and support staff who serve Texas students and their communities. 
School Expertise
Many traditional insurance carriers cover multiple industries, each with unique risks. The Fund maintains a laser focus on Texas public educational entities. Our team specializes in helping you get the right coverage, prevent losses, and return to normal operations quickly and cost effectively when incidents do happen.
Comprehensive Coverage
Educational entities are complex organizations that face unique and sometimes interrelated risks. For example, a single bus accident can result in workers' compensation, auto, and liability claims. Whenever possible, the Fund offers comprehensive coverage that streamlines the claims adjudication process and reduces the risk of coverage gaps that come from working with multiple providers.
More Budget Certainty 
Public schools and other educational organizations must be good stewards of public tax dollars to ensure their students get the most benefit. At the same time, there's the challenge of protecting taxpayers with appropriate coverage should there be an accident, storm, injury, cyberattack, act of violence, or theft. This balancing act requires expertise, experience, and value.
We work with members to customize risk solutions at competitive rates. You'll get more budget certainty and more peace of mind knowing the Fund is working with all its members to create safer learning environments together. 
Accountability to You
As a self-insured risk pool, the Fund is solely accountable to members, not to stockholders seeking profits. Texas Association of School Board employees administer the Fund with oversight from a 19-member board of school administrators and board trustees from across Texas. Our governance structure provides accountability, accessibility, responsive decision-making, and expert financial management.
High-quality Training and Support
Managing risk requires a holistic approach with guidance, consultations, and training opportunities for members to help them prevent, reduce, and mitigate potential risks. We meet you where you are with year-round virtual and in-person training that fits your schedule and your unique needs. When you join the Fund, you'll have support and resources to strengthen your organization against potential threats.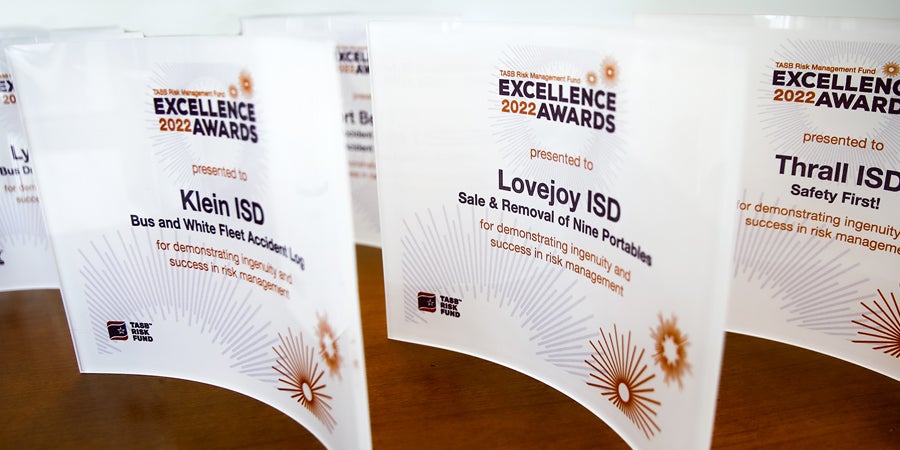 2023 Excellence Awards
Our annual Excellence Awards program recognizes members that implement effective, innovative solutions to their risk management challenges.